Protect Your Waterfront Investment With a Semi-Annual Inspection with Tropical Marine's Preventative Maintenance Services Contract
You made a considerable investment in your waterfront improvements. Tropical Marine Construction believes that you deserve the greatest return on your power boat lift investment as possible. Inconvenient downtime caused by unexpected dock and deck repair and boat lift parts and accessories repairs is frustrating and costly. Let us help you keep your waterfront property safe and in reliable working order with our 36 Point Preventative Maintenance Services Contract.
Prolong the Life of Your docking structures, Boat Lift Pulleys, Power Boat Lift and Jet Ski Lift with Our 36-Point Semi-Annual Preventative Maintenance Inspections
The old saying that nature eventually wins all battles is certainly true when considering the damage that naturally occurs from the SWFL heat, sun exposure, seawater and winds. When added to the natural wear and tear caused by age, use and exposure to the elements, outdoor structures including piling, boat lift parts and accessories and boat lift pulleys require regular preventive maintenance services to extend their longevity.
Tropical Marine Construction's Annual 36-Point Maintenance Program is ideal for regular boat lift maintenance and dock maintenance services. When you enroll in our semi-annual inspection and maintenance service, we perform the following boat lift maintenance, docking and decking maintenance, among other things: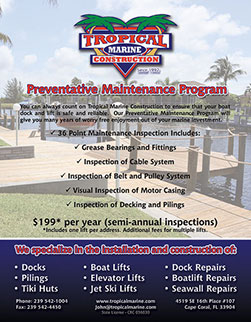 Boat Lift Maintenance:
Grease the bearings
Grease the zerk fittings, top beams
Grease the worm gear, if applicable
Grease the cradles
Inspect the boat lift pulleys system
Inspect the boat lift pulleys and cable system
Visually inspect the motor casing
Dock and Decking Maintenance:
Inspect the condition of the decking
Inspect the condition of the piling
Inspect the condition of the seawall
Our professional maintenance service team will schedule appointments twice a year for thorough inspections. At an annual cost of $199* per year, you not only receive regular preventative maintenance on your docking and boat lift parts and accessories, you also receive peace of mind knowing that your boat lifts and decking are in safe, reliable condition.
*Includes one lift per address. Additional fees for multiple lifts.
*Some Exclusions Apply
Protect your waterfront investment by enrolling today in our preventative maintenance service
Call Tropical Marine Construction at 239.542.1004, and ask us about our 36-point preventative boat lift maintenance services contract and dock maintenance services for your dock, decking, and boat lifts. Regardless of the type of dock or brand of boat lift, we will help you maximize your investment and time on the water by keeping it in safe and reliable condition.